FMPortugal Fantasy League

(Thanks to the logo No Rulez!)
- 40 clubs worldwide, 20 clubs in two divisions, one of these clubs is the users own forum with them.
- Kits for first division clubs, such as logos. (The forum folder F is of logos and the other is the kits.)
- 40 stadiums, one for each club. Velodrome included.
- Rivalry between clubs.
- Each club has six players on your nationality.
- Club satellites for each club.
- It was agreed that all clubs 1st division have players with a maximum of 180 CA (via Football Manager 2011, since the database began to be prepared in August).
- Great personalities of the football world (and beyond) were chosen to be Presidents, Managers, Coaches, etc..
- Attributes of players NOT modified. Made in the 12.0.4 patch.
- Added TV awards in the amount of 50M €
- Created cup and Super Cup. The latter is played by Moskva and Montreal.
- Thanks to: Daniel Ferreira, mingonças, Almeida, Paulo.J, MiguelTrigueiros, VOLTREX, No Rulez, zurrilho, leoferreira, neves, tiagovski10, STK, Ricardo Assunção, Blazz, Ginjo, nunocspinto, Rozas, Febra10, shelton, Gabriel Rocha , PedroPires18, João Pimenta, Isa and everyone who made this database possible.
Download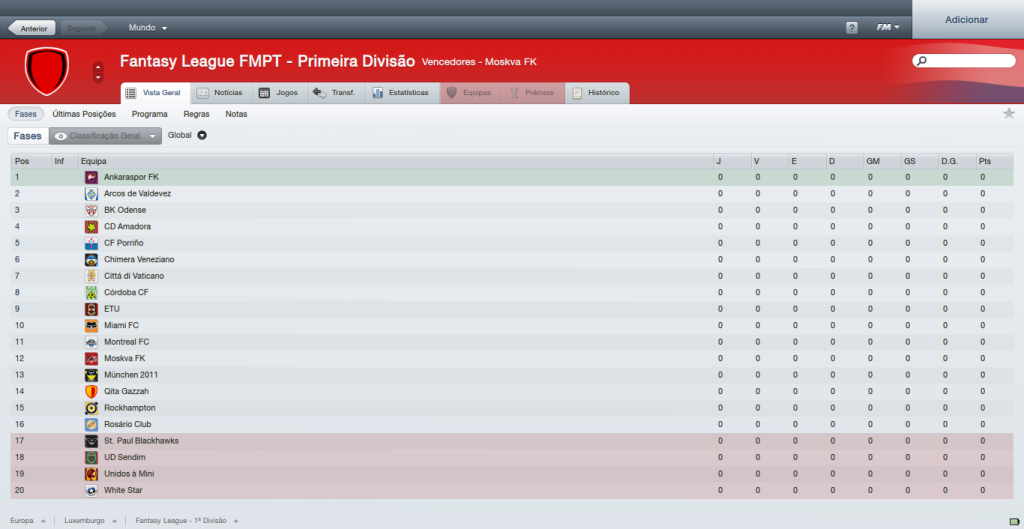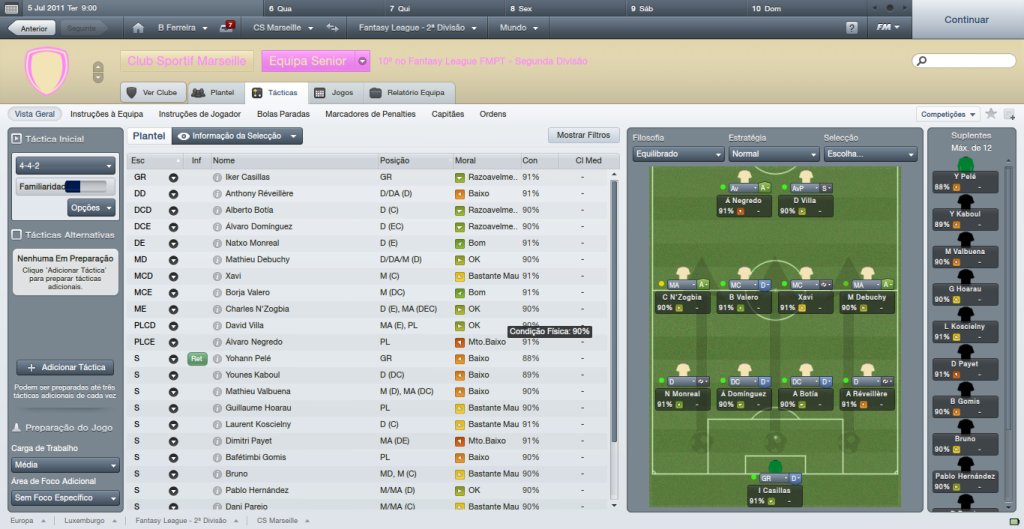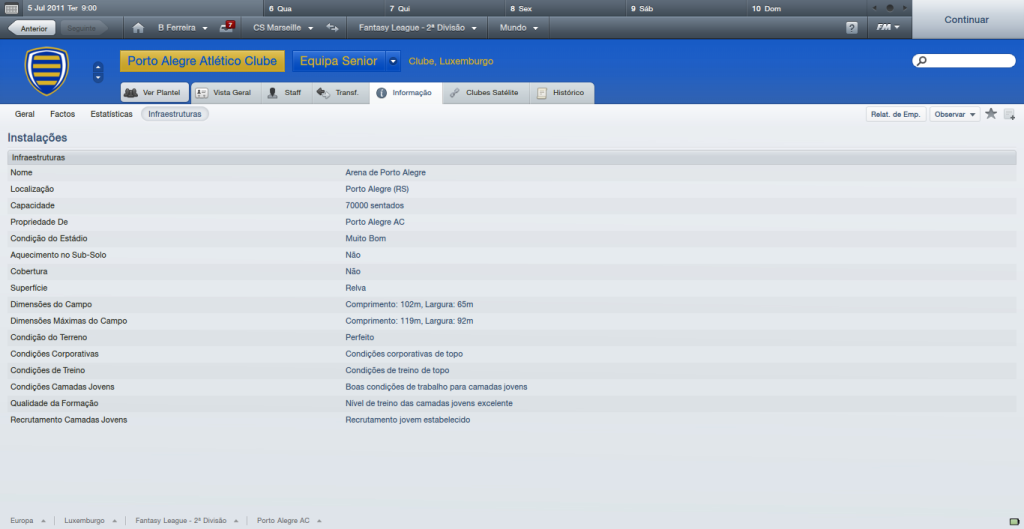 -------------------------------------------
young Promises

What is this?

Have been created two teams with young prospects in world football. Both play in the Premier League, replacing Swansea and Norwich and have their headquarters in the cities of London and Manchester.

How does it work with the staff and players?
The level of staff teams are similar, having the same number and type of preparers, and ensures that all five stars in the workout.
The level of players has made ​​a selection among the best young prospects in world football, I think teams were more or less balanced.

DOWNLOAD




Ligas FMPortugal
Europa
Liga Andorrenha by andre26
Catalonia by Andre26
Estonia by Almeida
Germany Level 6 by andre26
Ligas Letãs by Almeida
Moldova by Daniel Ferreira
Minho - Portugal by Andre26
África
[/url]
African Leagues by andre26
Algeria by Daniel Ferreira
Angola by Daniel Ferreira
Democratic Republic of the Congo by andre26
América do Sul
South America Leagues by andre26
-----------------------------------------------------
Basketball Leagues - 1st Version
Competitions

NBA
D-League
ACB League (Spain)
League of Greece
League of Turkey
League of Russia
League of Serbia
League of Lithuania
League of France
League of Israel
League of Germany
League of Portugal
League of Italy
Euroleague (It has all the teams that created the European league - qualifying format)
International Supercup (Winner Among the NBA and Euroleague

Choose Country: USA. That's where all the leagues are


Download
What will have the 2nd Version
Todas as equipas da NCAA
- Legends League (Imagine the Bulls of Jordan against the Celtics of Bill Russell)
- All Stadiums teams created
- All Presidents
- All Coaches
- Rivalries
- The NBA Players


WARNING: THIS VERSION HAS NO PLAYERS!



Click on the image to download the file



Click on the image to download the file
------------------------------------------------
Legends League
The idea is two leagues, divided by countries represented by their greatest legends.
Division 1:
- Portugal
- England
- Brazil
- Argentina
- The Netherlands
- Italy
- France
- Spain
- Soviet Union
- Contemporary Legends
- Germany
- Uruguay
Division 2:
- Yugoslavia
- Czechoslovakia
- Cameroon
- Colombia
- Nigeria
- Denmark
- Hungary
- Mexico
- A total of 20 teams divided into two divisions of legends (12 +8, respectively), with interesting cash prizes and a playoff to discuss the great champion.
- Each team will contest two cups, one with all the teams in the country and one with all other teams in their division.
- Minimum of 21 players per team.
- Dozens of other legends created and spread throughout the world, will find a particular game in which players clubs go (hint: players play in clubs passed by, not just the most obvious)
Download:
http://depositfiles....files/iyvkcyqj7
SS:
--------------------------------------
New Format of the Portuguese Football


It has all the Portuguese teams that were in the Football Manager
Besides the two Leagues which are in the images, there are five more divisions
It has the B teams of the teams that are currently in Liga Zon Sagres

The Championships have been restated. 7 Leagues

Gazprom - 10 Teams
Sonae - 10 Teams
Galp Energia League - 22 Teams
Bwin - 22 Teams
Sagres League - Series 4 (Series Each with 22 teams)
MEO - 8 Series (Each Series with 17 teams)
ZON League - Series 4 (Series 1 with 21 teams and the other with 22)
Portugal Cup - All teams
League Cup - Delete Format - Gazprom, Sonae , Bwin and Galp Energia League
SportTV Cup - Format Delete - Bwin , Sagres League, MEO ZON League
Portuguese Super Cup - Winner of League Gazprom and the Portugal Cup - Here and FCP SLB immediately appears in the 1st season, because I am not able to get Vitória
BP Super Cup - Winner of the Bwin League and SportTV Cup
Monetary prizes well more lucrative
End of Ascent and Descent Playoff

Download
Credits go to: Almeida, Voltrex e RC (FM Portugal)



Click on the image (has logos of competitions and B Teams)
-------------------------------------------------------------------
Liga Orangina with B Teams
- Creation of 6 B teams for Orangina League (Porto, Benfica, Sporting, Braga and Vit. Guimarães. Maritimo transported from IIB)
- Rule of 10 formed in the club added. This is for all 22 league clubs, because can not set individually for each club.
- Bwin Cup (being now a eliminating cup with two hands rounds, 32 teams enter at the beginning.
Download - Made by andre26
Download Patch 12.1.1 - Made by Eddie Vedder
---------------------------------------------------
Other databases, requested to us:
Made
Liga Orangina c/Equipas B - Requested by lupas - 100% - Made by FMPT Updating Crew
Sanhoane Futebol Clube - Pedido de Purity - 100% - Made by andre26
Moldova - Requested by fabrizio miccoli - 100% - Made by Daniel Ferreira
Paraguay, Bolivia and Ecuador - Requested by Almeida - 100% - Made by andre26
Young Prospects - Requested by Neru18 - 100% - Made by andre26
Catalogna - Requested by PlayerBR - 100% - Made by andre26
Minho - Requested by JFO - 100%
- Made by andre26
Singers Team - Requested by jOnAS. - 100% - Made by andre26
Players without -8, -9 and -10 de PA- Requested by Karlosmpc - 100% - Made by andre26
NHL e NFL - Requested by Pocahontas - 100% - Made by Almeida
Madeira Cup - Requested by Makulelee - 75% - Made by Daniel Ferreira
Venezuela - Requested by sagitru - 75% - Made by andre26
African Biggest Leagues - Requested by djonas_ - 75% - Made by andre26
German 6th Division - Requested by Dialectus - 75% - Made by andre26
Liverpool 08-09 - Requested by RicardoCorreia - 75% - Made by andre26
Sporting 02-03 - Requested by Special2PT - 75% - Made by andre26
Águas Santas - Requested by RicardoCorreia - 75% - Made by andre26
Luxembourg - Requested by Mica - 75% - Made by andre26
WWE - Requested by Pocahontas - 75% - Made by andre26
WIP
:
Downdate 72/73 - Requested by Miki feher - 30%
-
WIP by andre26 & Daniel Ferreira
Legends Update - Eras - Requested by Johnny'07 - 20%
-
WIP by Daniel Ferreira
Boavista 00/01 - Requested by PanteraNegra1904 - 10%
-
WIP by Daniel Ferreira
Sports Illustrated Ultimate Soccer Draft - Requested by NIkeL - 0%
-
WIP by Daniel Ferreira
NextGen Series c/ 32 equipas - Pedido de John5 - 0%
Futsal Leagues - Requested by ssj20r - 0%
-
WIP by Daniel Ferreira
Portuguese 1st Division 2000 - Requested by Special2PT - 0%
-
WIP by Daniel Ferreira
Boavista 00/01 - Requested by PanteraNegra1904 - 10%
-
WIP by Daniel Ferreira
@Site do projecto
----------------------------------------------------
Planned Databases
- FMPortugal Fantasy Legends
- Downdate 97/98
- Eras FMPortugal Legends
- Portuguese States (as in Brazil)
- FC Porto History
Messaggio modificato da Daniel Ferreira il 23 aprile 2012 - 19:07